Entirely inspired by Tim Ferriss' Five Bullet Friday email newsletter, I thought I'd get into the habit of posting seven things I've found interesting or useful over the past week. As well as being a fun way to share things, it'll also serve as a little brain training memory exercise (for those familiar with Dr Kawashima). Without further ado, check out:
1. This Photograph of the Netherlands in Winter by Rick Bekker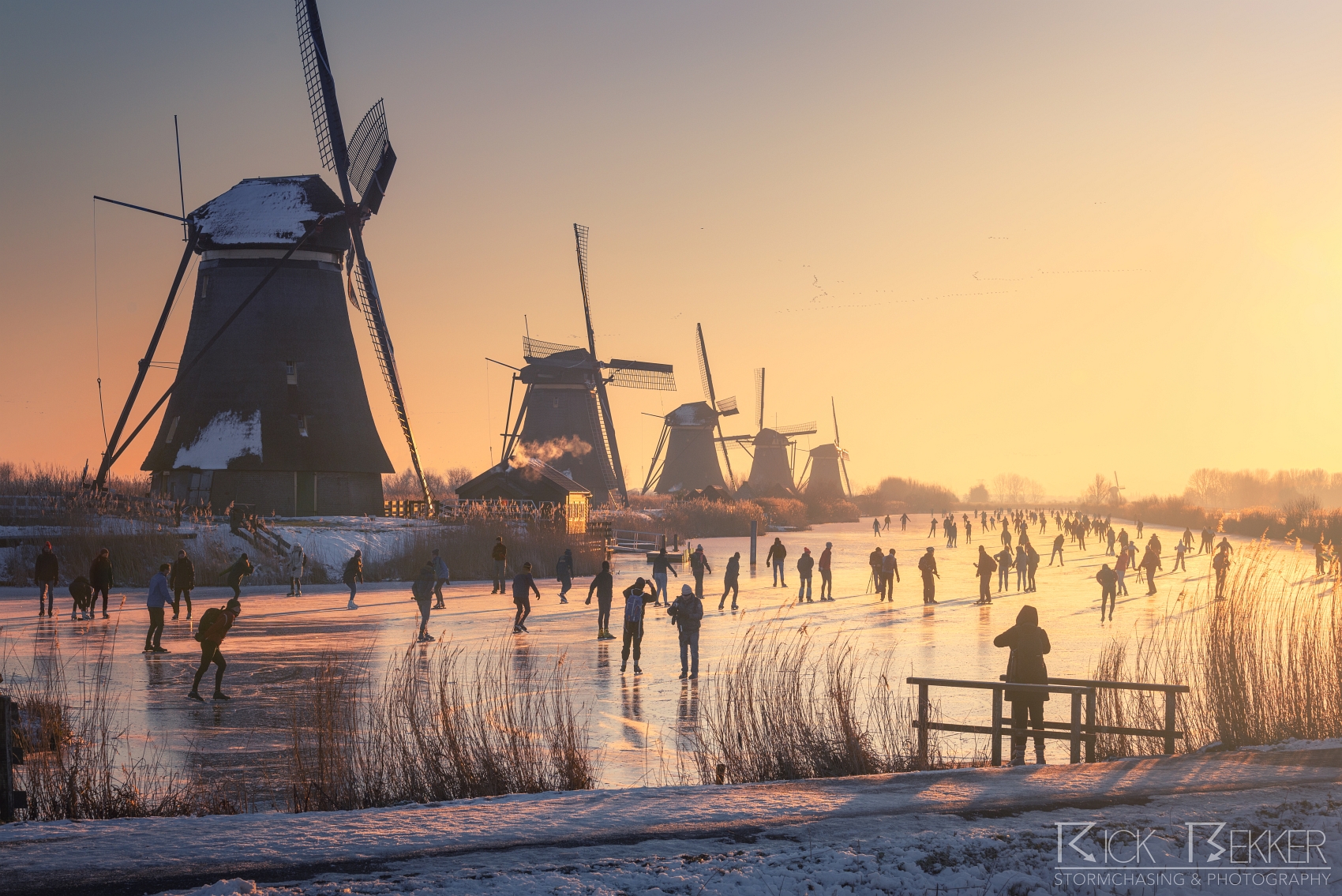 This dreamlike ice skating scene in the Netherlands was captured by Rick Bekker on 13 February 2021. You can blow the picture up bigger on Rick's Flickr account here and check out more of Rick's awesome landscape photography on Instagram here.
2. Maye's New Song Yours
I'm a big fan of Maye's track Tú, so I was excited to see a new track of hers in my New Music Friday playlist on Spotify. I hear a little Last Christmas Wham! in this and I'm digging it.
3. Becki and Chris' Downtown Buffalo Apartment Tour
I've been following Becki and Chris for a few months now – a super inspiring couple that balance their design and medical professions alongside putting out an absurd amount of creative content from their Youtube channel, their blog and their podcast (to name but a few). If you're interested in minimalist design, photography, videography and helicopters, check them out.
I've just posted three of my favourite snaps from their Buffalo apartment renovation post. The full post can be found here.
4. This Short Film Made By Becki and Chris
Following on from point 3, I'd also recommend this captivating short film which they've posted this evening (which I'm mid-way through):
5. This Peter Thiel Quote
I flagged this same quote (taken from Thiel's appearance on the Tim Ferriss show) in my recent summary of Thiel's audiobook Zero to One, but I think it's worth a repeat mention.
"You don't have to wait to start something. If you're planning to do something with your life – if you have a ten year plan of how to get there – you should ask, 'why can't you do this in six months?'"

PETER THIEL (THE TIM FERRISS SHOW – EPISODE 28)
6. Codecademy's HTML Course
After getting through Codecademy's free lessons on Python, I've decided to change tack and jump into Codecademy's course on HTML with a view to learning more about web design.
I've run through the first 16 mini lessons this afternoon and, as was the case with the Python course, the lessons are simple, fun and immediately require you to apply every new concept. It's such a clever learning tool and I'm excited to finish the rest of the course.
7. Another Peter Thiel Quote
I'll try and make my quote sourcing a little more varied in future (although this Thiel quote is at least lifted from a different source to the point 5 quote above). I'm managing to make my way through far more books these days thanks to audiobook listening, so I should have more opportunity to find great quotes for sharing. It's amazing how many "pages" you can get through in an hour when a book's being read to you at >=2x speed.
I've taken this quote from a future post on marketing and branding, but thought it was worth drawing attention to ahead of time in its own right. As a former naysayer as to the effectiveness of advertising, this statement certainly made me rethink my believed marketing immunity.
"Advertising matters because it works. It works on nerds and it works on you. You may think that you are an exception, that your preferences are authentic and advertising only works on other people. It's easy to resist the most obvious sales pitches, so we entertain a false confidence in our own independence of mind. But advertising doesn't exist to make you buy a product right away. It exists to embed subtle impression that will drive sales later. Anyone who can't acknowledge its likely effect on himself is doubly deceived."

PETER THIEL, ZERO TO ONE (2014)
So that's it for this Sunday. I hope you've found something of interest. Until next week!